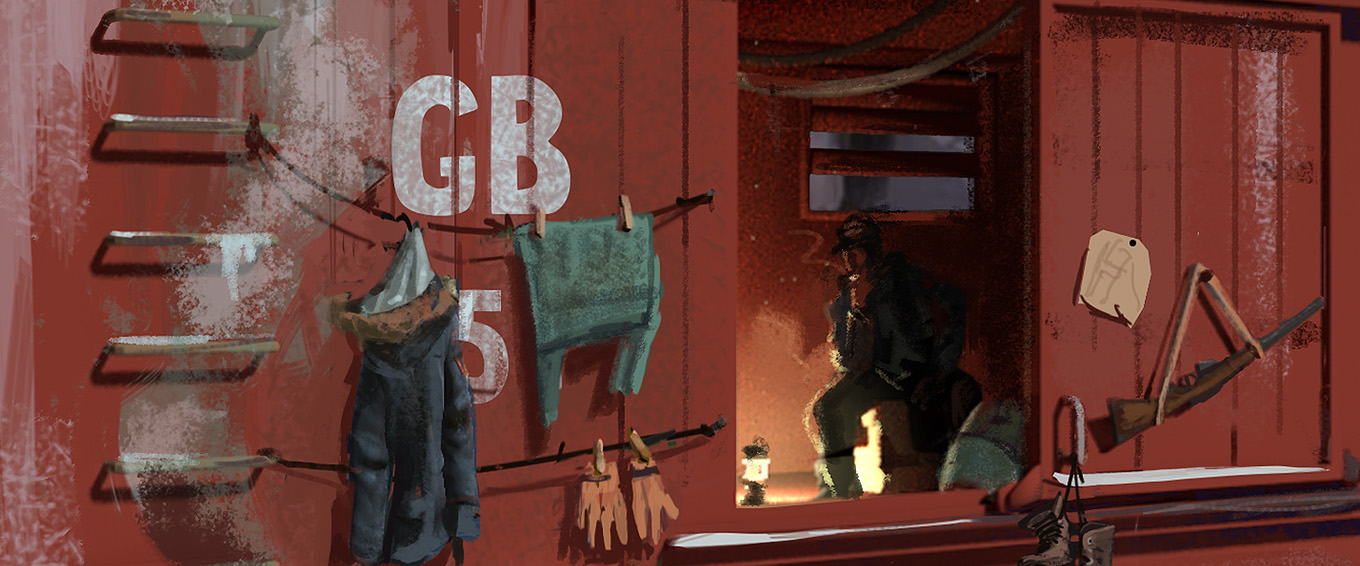 Dev Diary – April 2022
29.04.2022.
April Developer Diary — The Future of The Long Dark
In a couple of months, it'll have been ten years since I submitted the incorporation documents for Hinterland Studio Inc. and the company became a real business. I guess that milestone has me in a pretty pensive mood as I write this.
Ten years is a good amount of time for a game company to exist. I look back at photos of my basement home-office, to the various studio spaces we've grown into and then outgrown, to now looking around at my non-basement home office and big screens with 60+ people Zoom calls, and I reflect back on the journey that has gotten us to this point.
I look at the mix of faces I see looking back at me on that screen during our team Town Hall meetings. All kinds of different people with all kinds of different backgrounds. Every one of them a wonderful human being who is putting their heart and soul into Hinterland, to help create experiences for you, our players, and, in our own way, trying to shift the medium a little more towards thoughtfulness.
A ten-year anniversary seems like the right moment to talk about the future.
What's Next for The Long Dark
For those of you who know your TLD (and Hinterland) history, you may recall we announced The Long Dark with a Kickstarter (one of the first to use CAD!) in the fall of 2013, and followed up with a Steam Early Access launch of our "sandbox mode" in September 2014. For the next few years, we continued to expand and evolve the "sandbox" portion of the game (adding Xbox via Game Preview in 2015) while we also slowly built out the first parts of WINTERMUTE, our story mode. We launched our TLD 1.0 with Episodes One and Two of WINTERMUTE in August 2017 (adding PlayStation), then re-released the "Redux" versions at the end of 2018, followed by Episode Three in 2019, Switch in 2020, and Episode Four in October of last year. In between, we continued to update the "sandbox" portion of the game, which we renamed to Survival Mode. Somehow, along the way, we managed to build a community of nearly 10-million players. Without you, The Long Dark, and Hinterland, would very likely not be here today.
When we launched our Kickstarter back in 2013, I promised that all backers would receive the five planned episodes of our story mode for the backing price, a promise we carried over to our Early Access and Game Preview backers. Meanwhile, our plan was to incrementally update the game's foundational Survival Mode and align those updates (generally) with features and content we knew we wanted to include in later episodes (sometimes we did the opposite and introduced new features or content into Episodes which later found their way into Survival), and to keep players engaged in between the episodes. But this early 2013 backer promise meant that we have updated the game "for free" ever since we launched it, despite the fact that the game's scope grew with its success and each episode represented a lot more effort and time than we had originally intended. (Keep in mind that our plan for TLD with the Kickstarter was a ~10-hour narrative-driven survival game and no freeform sandbox. Now, each of our episodes can be longer than 10 hours and the sandbox is now one of the biggest available within the entire genre of open-world games.)
Aside from the fact that it's important to live up to your promises, I think this "free updates" paradigm has resulted in a lot of good will with you, our players, and has hopefully strengthened our relationship and your loyalty to us as a team and studio. So, we're really happy about this initial promise and we're happy to have been able to go above and beyond to deliver on this over the past several years.
But it hasn't been easy. One of the challenges of supporting both Survival and Story modes in The Long Dark has always been managing our resources to sustain both. Delivering WINTERMUTE was a promise, an obligation, but continuing to support Survival Mode was a choice. We did it to ensure our Survival players didn't feel neglected while we worked on the story episodes, but as a result, some of the "magic" that drove the early years of The Long Dark's success, and the growth of the game and the community, was lost. We weren't able to update Survival as frequently, as our studio focus was necessarily split between both modes, and these frequent updates were a big part of what helped the game take off.
Last year we ran a community poll, asking how you would like us to dedicate our focus for the future of The Long Dark. Amongst other bits of useful feedback, we discovered that nearly 80% of you wanted us to begin producing paid expansion content for Survival Mode. We've always felt fortunate that there's been a core group of you that have been asking us to start charging for content for a while now, but this was the strongest indication of what our players wanted us to prioritize for The Long Dark.
Unfortunately, updating Survival mode with paid DLC is not that simple. Due to the decisions we made early in the project's inception, the game's survival foundation has been inextricably linked to the story mode, and the story mode has been completely dependent on the core survival game. This has meant that over time, as the game has increased in scope and complexity, with new mechanics, new regions, new challenges, and new episodes, the game has become…unwieldy. Every update requires the entire game to be re-tested. Systems, content, and code have their roots deep into both parts of the game. Our testing times have gone from maybe a week per update (in the project's early years), to more than a month per update. The deep interrelationship between mechanics and content between the two "modes" has also meant some updates we would have liked to make in one area, couldn't really be done because of how they might impact the other. In short, the game has just become too big for us to maintain well.
To address this, the team has been hard at work since we launched Episode Four, to decouple Survival and Story from each other. It's been a huge amount of work, involving careful separation of content but in some cases also the wholesale refactoring of code and entire systems. The good news is that we are now at the point where Survival Mode runs as a standalone experience, with no linkage back to Story mode. What this means is that we can now update Survival independently of Story. Updating will be easier, and faster. Testing will be simpler and more streamlined. And it means we can make changes and improvements specifically for Survival, without any concern about how they might impact WINTERMUTE.
The opposite will also soon be true. The WINTERMUTE episodes will be completely separated from Survival, and when we update to Episode Five, we'll be able to do that without concern for how it might impact (or be impacted) by Survival. This also means that the WINTERMUTE episodes can potentially receive targeted updates without concern for how those changes might impact Survival Mode.
This process has been a ton of work for the team, and unfortunately it's all behind-the-scenes work to the extent that you are probably asking yourself "but how does this impact me?"
Well, how it impacts you is that the split opens the door to a whole new era of Survival Mode content updates that will bring new life and new energy back into The Long Dark. It doesn't change anything about content you already own, and everyone who owns The Long Dark (on all our supported platforms) will still get Episode Five when it releases.
And this split means we can finally deliver on your request that we start producing paid content for Survival Mode. So that's what we're doing.
Later this year, we'll be launching a paid update path for Survival Mode. This will be the first paid content we've added to The Long Dark (apart from our soundtracks) since we launched it nearly 8 years ago. We're still working through the details of the roadmap and our release plans, but I can tell you this much with a high degree of confidence:
It'll be some kind of "season pass"-type approach (actual name TBD), where we have a ~15-18 month campaign of updates that unlock for anyone who has purchased the pass. The updates will come on a regular cadence over the course of that period.
The pass will include a combination of content and gameplay system updates, including new regions, new challenges, new mechanics, etc., as well as general improvements and updates to core systems in the game.
Additionally, for anyone who doesn't like the season pass style approach and prefers to only pay for content when it's complete, we will re-package the season's content into 3-4 individual paid DLC packages.
We're still working on pricing, but the season pass will provide a discount on the combined price of the DLC, and each piece of paid DLC will be very fairly priced.
We want to make sure our existing players who choose not to buy any more content (or are unable to afford it) are still going to have a great experience of The Long Dark, and won't feel left behind. So we'll also continue to provide some free updates to the base Survival game, so anyone who doesn't buy the pass will get something. These updates will generally be smaller, more modest improvements compared to what you will see being added to the paid content stream, which seems only fair.
I know that this is a big departure from our history of releasing major updates for free as part of the base price of the game, but we feel that after nearly 8 years of content updates it's time for us to put a little more attention around ensuring the game continues to be financially self-sustaining, and the kinds of major improvements and content we want to add to Survival Mode are significant enough and require enough team effort that we just can't justify giving them away for free anymore. We want to ensure The Long Dark can continue to be a vibrant game with a vibrant community, and we think this is a necessary and logical step to supporting that goal well into the future.
We also hope that our three-tiered approach will ensure that everyone can get something regardless of their financial circumstances or their comfort level with "season pass" type solutions. In a way, we see the paid stream almost behaving like a second Early Access, not in the sense that the content isn't polished, but that it brings us back to a cadence of more frequent updates and faster evolution of the base game, without some of the constraints we've been fighting with for the past few years.
We'll release more information about our plans, and provide some visuals to help communicate our planned roadmap and a simple product matrix well before we launch. There will also likely be a short pre-order period for the pass, on the platforms where such a thing is possible. Currently, we are targeting a launch of the paid stream for the second half of this year.
Leadership Changes
The Long Dark has sustained Hinterland for nearly a decade. I've worked on it for nearly a decade. Just like it's time for the game to turn to new things, it's time for me to do the same.
I'm handing leadership of The Long Dark to Katie Sorrell, who takes over as Project Lead. Katie is no stranger to TLD or Great Bear Island, having personally designed every region from Pleasant Valley onwards, and having led the development of all our WINTERMUTE episodes as Lead Designer. Not only is Katie a 30-year game design veteran, but she's been my close design collaborator for the past seven years, and I can't think of anyone more qualified, or more suited, to take The Long Dark into the future. I feel so fortunate to have such a strong partner in this game, and so grateful that under Katie's leadership, The Long Dark will continue to thrive well into the future. Katie is supported by a fantastic team of leaders and creators on the team across all disciplines, many of whom have also worked on The Long Dark for years, and I know that under her leadership and their steadfast support, The Long Dark is stepping into a new era of exciting growth and innovation.
As for me — it's time to move on to new things. I've put more years into TLD than I initially expected, and while I love the game, its world, and its fans (and it will always occupy a special place in my heart), I need to flex my directing, design, and writing muscles by solving some new creative challenges for Hinterland. It's time to create something new.
My final hands-on contribution to The Long Dark is the script for Episode Five, where the WINTERMUTE story is brought to its conclusion. Beyond that, I'm heading into a quiet, and hopefully fruitful, creative period so that I can attempt to come up with something that has even greater longevity and impact that The Long Dark has had on you and all of us during these past years. It will be difficult. I hope you will be there to see the results when I'm able to share more.
I promise this is not the beginning of the end, but the end of the beginning.
Despite this shift in leadership for TLD, I remain the creative director at the studio and I will always have a hand in reviewing and guiding the experiences we make, so this doesn't mean I won't still look at every bit of The Long Dark that goes out the door to you. It just means I won't be driving it in the hands-on way I have been over the past several years. And I think this will be good for the game, good for the team, and allow Hinterland to evolve into a multi-project studio that can thrive and impact the medium positively well into the future.
I now turn my thoughts to new horizons, and the next Hinterland decade. Thank you for all the incredible years you have given me, and us, so far. And I hope that I, and the entire team at Hinterland, can continue to count on your support and your fandom, in all the current and future worlds and experiences we create for you.
In the next dev diary, we'll share more details about our plans for the Survival Mode paid stream. Episode Five is also still firmly on our radar; I currently anticipate a 2023 release, but we won't have much to say about that for the rest of this year. There's a lot of story to tell, and a lot of threads to tidy up, before we close the chapter on the epic survival journey of Mackenzie, Astrid, and the other survivors of the Quiet Apocalypse.
Thanks for reading, and until next time, stay safe and see you out there in the snowy wilds of Great Bear Island, where I will be wandering, thinking, and looking to the future.
– Raph