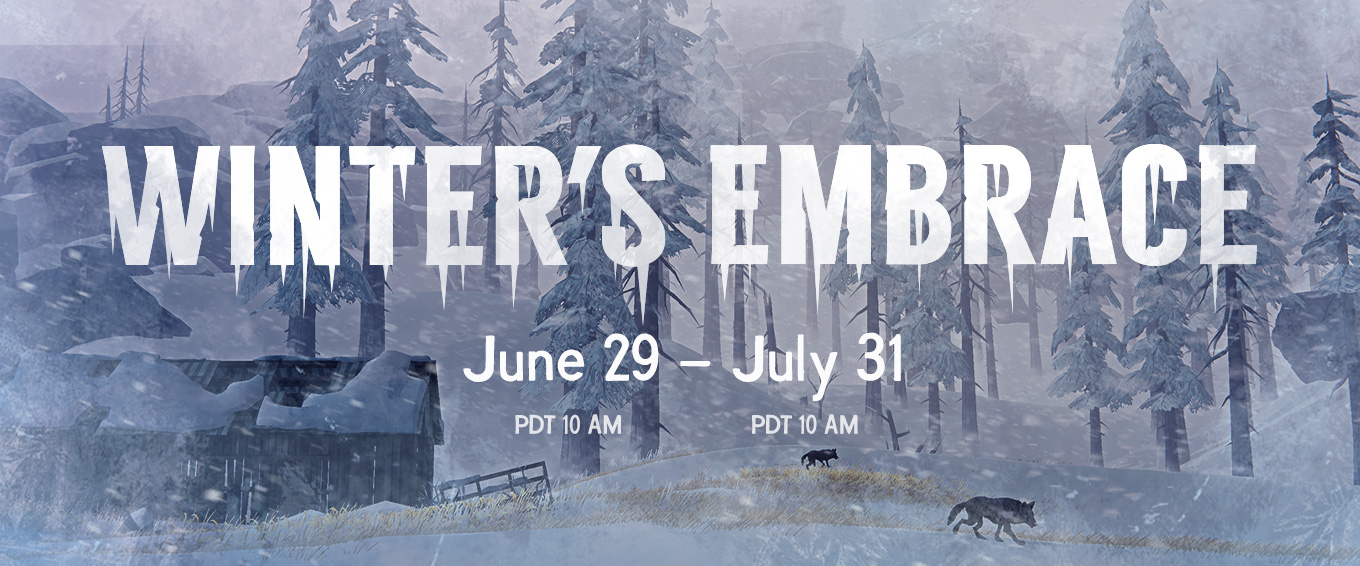 Will You Survive WINTER'S EMBRACE?
29.06.2020.
Hello players,

We're excited to share our new month-long event in The Long Dark. Running from 10am Pacific on Monday June 29th, and lasting until July 31st at 10am PST, WINTER'S EMBRACE makes the harsh Winter environment of Great Bear Island even harsher, with:
Average world temperature is reduced by 10 degrees Celsius
Interior temperatures are reduced by 10 degrees Celsius
More frequent, and longer-lasting Blizzards
And since Canada Day occurs during this Event (on July 1st) we're also adding two new Canadian-themed Food items: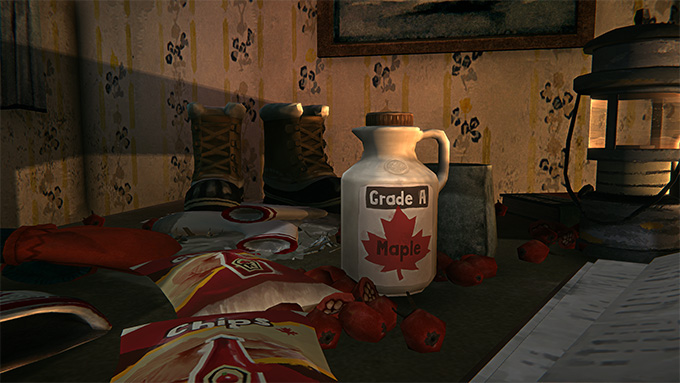 To celebrate your time in WINTER'S EMBRACE, we'll unlock two badges for you if you accomplish the following tasks:
Canadian Feast: Find and consume 25 bottles of Maple Syrup and 25 bags of Ketchup Chips across multiple saves while WINTER'S EMBRACE is active.
Winter in July: Survive 25 consecutive days across a single WINTER's EMBRACE save, while the event is active.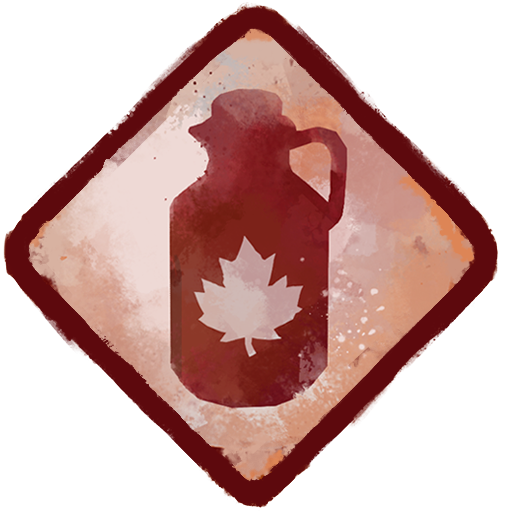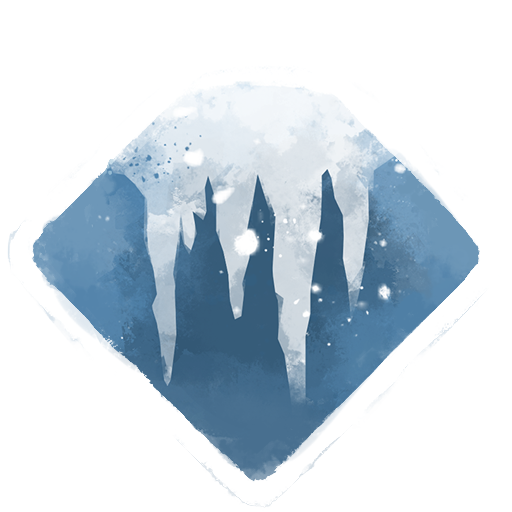 Please note that you don't have to accomplish both these tasks in the same game!
As another nod to Canada Day, we're also adding a Heritage Filter mode, inspired by old National Film Board TV and film content we grew up with in the 1970s and 1980s. This mode adds an old-school TV filter to the game world (but it does not affect the in-game user interface). And for film buffs out there, we've also added a Noir mode, which lets you experience The Long Dark or WINTERMUTE in a classic monochromatic filter. Both Filters can be applied from the Display settings.
Maple Syrup, Ketchup Chips, and the new view filters (Heritage & Noir) will persist in the game after WINTER'S EMBRACE ends, but you won't be able to get the badges after July 31st at 10am PST, so we hope you'll jump into the event and test your survival skills in the coldest The Long Dark has ever been!
To join the event, make sure you have updated the game to the latest version, and select the WINTER'S EMBRACE item from the Main Menu. If you run into any issues, please contact us at hinterlandgames.com/support.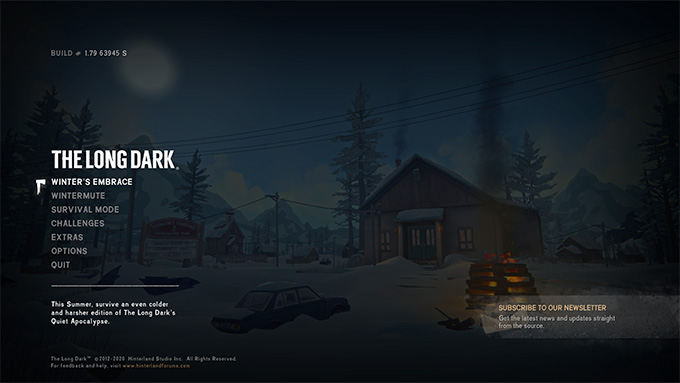 We hope you enjoy WINTER'S EMBRACE, and please feel free to share your survival stories with us in the Official Community, or on social media using the tags #thelongdark and #wintersembrace.

– The Hinterland Team
*****
THE LONG DARK v1.79 (63945) CHANGELIST
Added WINTER'S EMBRACE Content & Event.
GENERAL FIXES
[General] Added collision to the car's hood, so the Battery can no longer be interacted with through a closed hood.
GENERAL ART FIXES
[Enviro] Fixed various floating or clipping objects found throughout the world.
[Enviro] Fixed numerous areas where small chunks of rock appeared to unintentionally push through the snow.
[Enviro] Fixed numerous areas Players could become stuck on terrain.
[Enviro] Fixed issue that caused Backpacks to clip into objects they were placed against.
[Enviro] When spray painting the hood of a truck, the decal will no longer clip through the snow.
USER INTERFACE
[UI] Fixed an issue that caused the Pleasant Valley's Prepper Cache map icon to not appear on the map after discovery.
[UI] Fixed an issue that caused an incorrect UI callout to appear after lighting a Match, and then opening and closing the Inventory.
[UI] Fixed an issue that prevented Players from editing Rock Cache notes when using a controller.
[UI] Fixed overlapping between Stamina UI and Spray Paint UI.
[UI] FIxed an issue that caused Mysterious Signal Fire to appear twice when viewing Surveyed Locations in the Journal.
[UI] FIxed an issue that caused the Map screens help to appear too low on the screen, cutting off text.
ALL GAME MODES
[Gameplay] Fixed an issue that caused clothing to become wet when left in the Trailers found next to the Cannery.
[Gameplay] Spray Paint Cans weight and durability now decrease at the same rate when used.
[Gameplay] Fixed an issue that prevented Timberwolves Pack Morale from being drained when using the Flashlight's high beam.
WINTERMUTE
[WINTERMUTE] Timberwolves will now react to the Flashlight when appearing in WINTERMUTE.
SURVIVAL MODE
Fixed an issue that prevented feathers from spawning on carcasses after long amounts of time have passed.
Removed duplicated polaroid found in the FM Shortwave Tower, in the Forlorn Muskeg region.
### END OF CHANGELIST ###